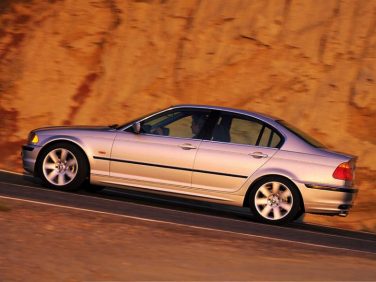 | | |
| --- | --- |
| Problem: | Reseting your service indicator after oil change. |
| Application: | All E46 models 9/99 onward |
| Solution: | Perform the steps below |
| Cost: | FREE |
How to reset BMW E46 oil service / inspection oil light:
After performing an oil change, the BMW E46 oil service / inspection light must be reset. Once reset, the computer will then count down from 15,000 miles until the next oil change. The below procedure works on every BMW E46 model produced from 9/99 onward.
The reset procedure is straightforward and does not require any special tools or even for the vehicle to be brought to a dealer. If you change your own oil at home you can and must reset your indicator light through the steps below.
What are the steps?
➊

Turn the ignition key in the "off" position.

➋

Press and hold the lower left button on the instrument cluster, which is the trip odometer button.

➌

While the trip odometer button is pressed, turn the ignition key to the FIRST position (KLR).

✔

IMPORTANT: DO NOT GO TO THE SECOND POSITION, if you do, remove the key and start over.

➎

Keep the trip odometer button pressed for approximately 5 seconds until one of the following words appear in the display: "OIL SERVICE" or "INSPECTION" with "rESET" illuminated above.

➏

Release the trip odometer button and press and hold it until "rESET" flashes.

➐

While the display is flashing, press the left button briefly to reset the service interval.

➑

After the display has shown the new interval, the following will appear: "END SIA".
✔ The system can only be reset again after 2.5 gallons (10 liters) of fuel have been consumed.
Other BMW model oil service inspection light reset procedures: