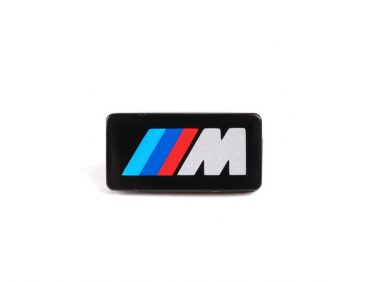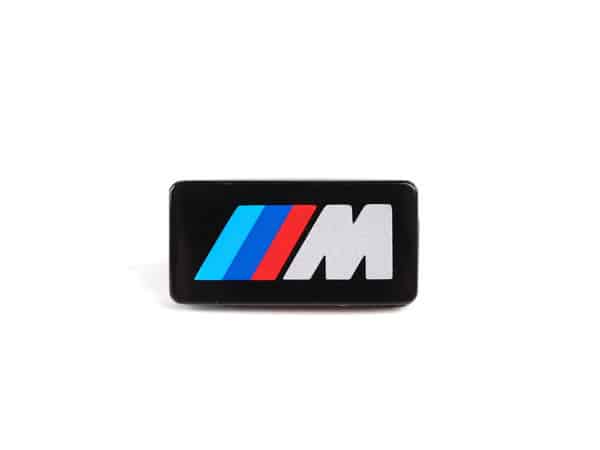 | | |
| --- | --- |
| Problem: | Faded, cracked or worn BMW M sport steering wheel emblem. |
| Application: | E30, E36, E34, E32, E81, E38, E39. |
| Solution: | Replace worn emblem. |
| Cost: | ~$20 |
| OEM BMW Part Number: | 32332226479 |
BMW M badge replacement, steering wheel:
BMW Mtech 2 steering wheels have an M badge located on the middle spoke.  Over time this badge can crack, fade, scratch or just fall out.  Luckily, BMW still makes the original badge and can be ordered online or at the dealer for around $20.  Replacing this badge with a new factory replacement will bring back some vibrancy to your sport steering wheel.
The badge is pressed in place by two posts protruding from the rear of the badge.  If your worn badge is still existing, take a non metallic pry tool or a metallic screw driver with the end taped and pry off the old badge.  Installation of the new badge is done by simply pressing the new badge in place to where the posts are inserted in the existing post holes.
To remove the steering wheel center roundel badge / emblem, make sure to see our post on this process HERE.
Where to buy?
The sport steering wheel M emblem can be ordered through your local BMW dealership or any online parts distributor. Simply "GOOGLE" the part number to find a local vendor.
What is the OEM BMW part number?
OEM BMW part number: 32332226479
What models will it fit?
This emblem fits any E30, E36, E34, E32, E39, E39 and E81 model airbag steering wheels equipped with the M emblem.  The listed BMW models are the OEM wheels that were available with this emblem from the factory.  Many of the listed models have interchangeable wheels, such as E30 and E28.  It is likely your model may not be listed above but still have a wheel with this style emblem.
To check if your wheel has this emblem, remove the existing emblem and verify the recessed area has two holes which accept the emblem posts.  If the holes are existing, this badge will fit your steering wheel.
How much does it cost?
Prices hover around $20.