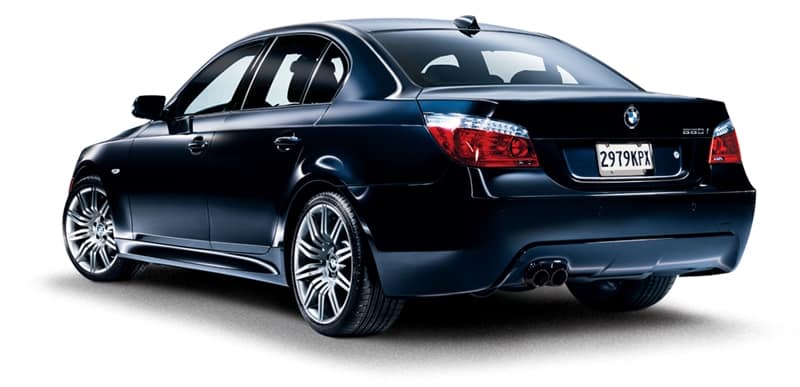 BMW E60 paint codes and color options, 5 series:
Below are the BMW E60 color options for the standard production models for the North American market. Special orders which featured unique paint codes are not shown below. Euro-spec E60 paint codes and color options largely reflect that of the North American color options.
BMW E60 5 series background:
The BMW E60 5 series sedan (E61 Touring) was the fifth generation 5 series. It was manufactured from 2003 - 2010 in Dingolfing Germany and Shenyang China. The E60 5 series was the first ever BMW model to be fitted with a turbocharged petrol engine, a six speed automatic transmission and regenerative braking. A total of 1,096,444 sedan models were manufactured while 263,426 Touring models were manufactured totaling 1,369,817 E6X models world wide.
If you know of any further E60 paint codes and paint options offered through proof of official BMW documents, please click the "CONTACT US" button on the bottom of this page.
✔ Where can I find my BMW paint code? Learn how, click HERE
✔ Looking for the BMW E60 / E61 M5 paint codes and paint names? Learn them, click HERE
✔ Looking for a master list of all BMW paint codes and paint names? Learn them, click HERE
BMW E60 Paint Codes / Color Options - North America
PAINT NAME
PAINT CODE
SAMPLE
Alpine White III
300
Jet Black
668
Titanium Silver Metallic
354
Silver Gray Metallic
A08
Titanium Gray Metallic
A36
Amethyst Gray Metallic
A09
Olivin Green Metallic
349
Oxford Green II Metallic
430
Mystic Blue Metallic
A07
Orient Blue Metallic
317
Black Sapphire Metallic
475
Space Gray Metallic
A52
Deep Sea Blue Metallic
A76
Deep Green Metallic
A43
Platinum Gray Metallic
A68
Platinum Bronze Metallic
A53
Monaco Blue Metallic
A35
Carbon Black Metallic ^
416
Copper Metallic
A06
^ Available only on 550i with optional Sport Package