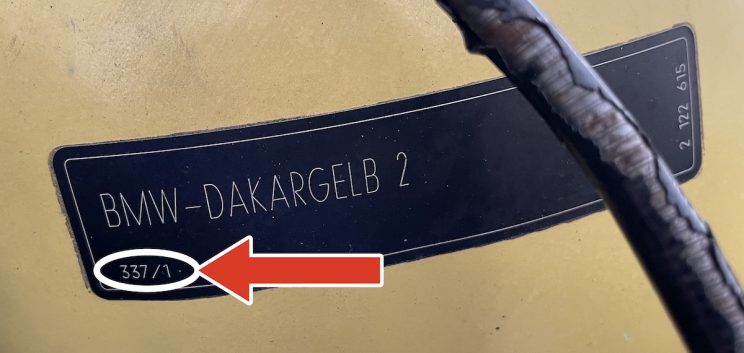 BMW paint code location, classics:
BMW classic vehicles have a paint code placard located on the driver side strut tower. To locate, open the hood and face the rear of the vehicle. There is a narrow, rectangular placard containing the paint name (labeled in German) and just below that, the paint code. Classic paint codes typically contain 3-4 numbers. View the images below for further clarification.
BMW paint code location, moderns:
Modern BMW models have a placard in the driver side door jamb which contains vehicle information such as the VIN but also the paint code. In the lower right corner there should be three to four numbers or a letter and two to three numbers indicating the paint code.
Other ways of finding paint code:
The paint code is documented in the coding of the Vehicle Identification Number (VIN). As a result, one can decode the VIN to get the original paint code. One can simply internet search "BMW VIN decode" where you can find websites which allow you to enter the known VIN of the vehicle which will be decoded to reveal the original factory paint name / code.
Why would you want to know your BMW paint code?
Find out if the vehicle has been repainted.
If you are researching used vehicles and want to confirm if the paint is the original color, finding the original paint name / code is one way to verify. It is not a way to verify if the vehicle has been repainted in the same color. There are other ways to identify this which will not be covered in this post.
To find out the paint name:
BMW vehicles have interesting paint names and may make you appreciate your vehicle more. Many of the M vehicle paint colors are named after race tracks around the world to show BMW's roots in motorsport. Some of the most popular M paint names are Laguna Seca Blue, Hockenheim Silver, Silverstone Metallic, Imola Red and LeMans Blue. All of these names are named after famous race circuts.
To order paint:
Many online automotive paint sellers offer paint cans or spray paint bottles of custom color paints. These paint shops require the paint code in order to ensure the right paint combination is mixed. This paint can then be used to touch up rock chips or respray primed body panels.
Do a Carfax report or similar. These vehicle reports will not only tell you the history of the vehicle (registration, maintenance, accidents etc.) but these reports will tell you the original factory color which then be used to reference the original code. We offer a master list of factory BMW paint codes through the link below.
What if my paint code is 490?
Paint code 490 represents a custom order paint. This color is taken from BMW's Individual Catalog which offers customers unlimited color options as well as access to paint options that are no longer used on production vehicles. This is a special option making the vehicle more rare and harder to find touch up paint. Not only are many of the paints unique, but the painting process itself is unique making resprays difficult to replicate at most paint shops.
Where can I view the master list of BMW paint codes and names?
Learn them, by clicking the link HERE
View factory paint codes and names offered per BMW model:
Learn them by clicking HERE