The BMW logo is one of the most recognized corporate brands around the world. We will walk through the origins the logo design, address when it was first used as well as dispel any myths along the way.
BMW logo history:
In 1917 BMW purchased aircraft motor company RAPP, which included all of their business segments. BMW wanted their new logo to show lineage with RAPP by modifying their existing logo. The original RAPP logo featured a horse inside of a circle. BMW removed the horse and replaced it with the blue and white checker pattern to reflect the official Bavarian colors as seen on the Bavarian flag. This is fitting since BMW stands for "Bavarian Motor Works". The BMW letters replaced the RAPP letters inside the circle in a similar arrangement on the top of the logo.
Is the blue and white propellor a myth?
There is a rumor floating around that the BMW logo represents a spinning white propellor with the blue sky behind it. This rumor seems plausible since BMW has its roots in aircraft engines. An aircraft magazine featured a photo of a high wing aircraft with the BMW logo faintly behind the spinning propellor. Released in 1929, this magazine was more than 10 years after the iconic BMW logo came into existence. Although this was a clever marketing piece, it is nothing more. It does not reflect the true origins of the BMW logo design.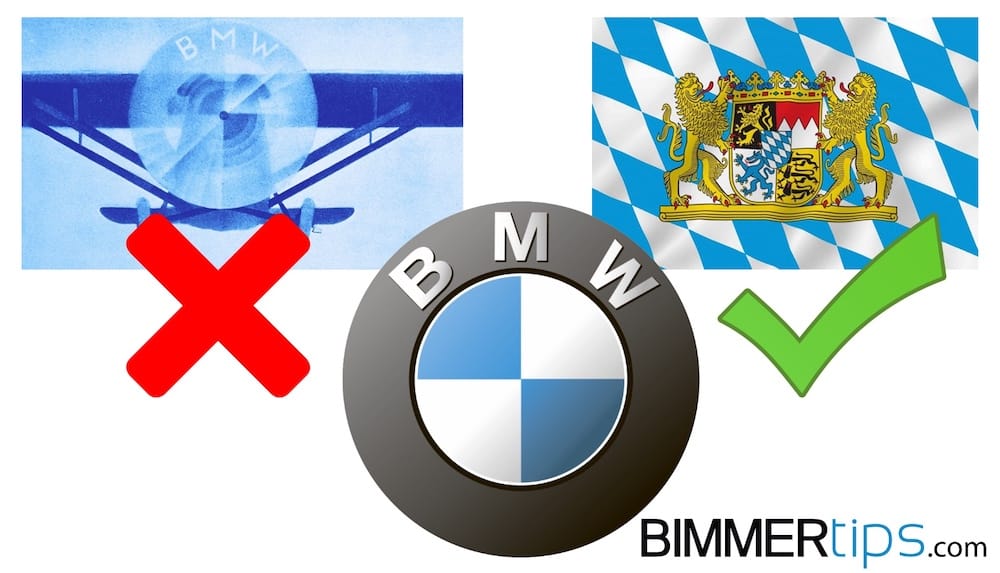 When was the BMW logo first used in print?
First written document with the BMW logo on it came five years prior to use on a vehicle in 1918 featured on the "Bayern-Flugmotor", a manual to a BMW aircraft motor.
When was the BMW logo first used on a road vehicle?
The BMW logo was first used on BMW's first-ever motorbike the R32, introduced in 1923.
When was the BMW logo first used on a car?
The BMW 3/15 was not only BMW's first automobile to feature the iconic BMW logo, it was its first BMW of all time in 1927. Along with the iconic blue and white BMW logo, the kidney grills are a key part of BMW branding and recognition up to this day.
It is clear BMW vehicle designs have changed dramatically over the years, however, the logo has only subtly changed. Changes to the BMW logo capture the spirit of the time in which the vehicles were manufactured. The below image shows the evolution of the iconic BMW logo throughout the years.
Where can I learn more BMW Fun Facts?
Learn more interesting BMW fun facts by clicking HERE