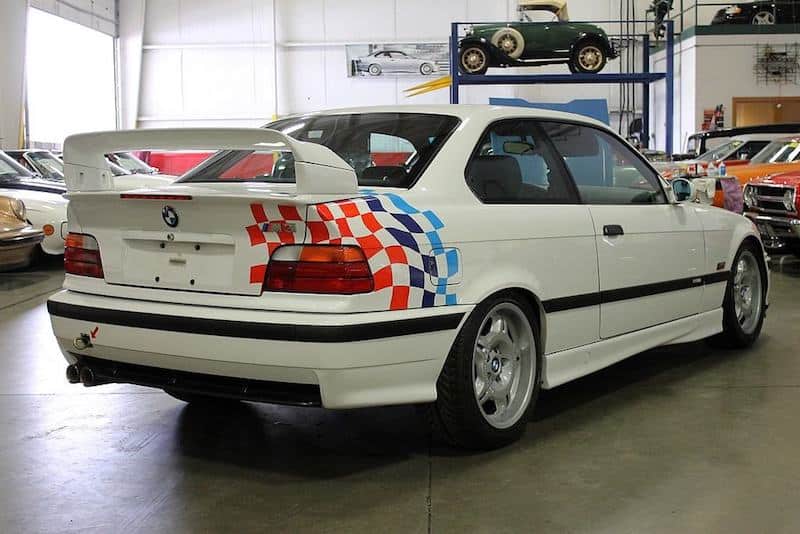 | | |
| --- | --- |
| Problem: | People sell replica LTW wheels advertising them as OEM. |
| Application: | All models |
| Solution: | Look for the proper OEM BMW markings |
BMW Style 24 wheels were first introduced in 1994 as an optional wheel for the E36 M3 at a dealer price tag of $1,850.  These wheels came standard on the limited production E36 M3 LTW in 1995 which is the model M3 that made these wheels gain some real recognition.  
Style 24's came only in 17-inch diameter with 7.5 inch wide fronts and 8.5 inch wide rears.  The offset is ET+41 and each front wheel weighs 8.94 kg (19.71 lbs) with the rears weighing 9.48 kg (20.90 lbs) each.  Although an inch difference in width, both the front and rear wheels use the same tire dimensions of 234/40-17.    Each wheel produced was individually inspected using X-ray and precision balanced after forging and machining, as a result some wheels show evidence of grinding on the inside get true balance.  
The preface E36 M3 (3.0L S50 engine 1994 - 1995) had a slightly different version of wheel than the facelifted E36 M3 (3.2L S52 engine 1996 - 1999).  These wheels are still a popular OEM wheel option for the E36 M3 and as a result, the design is replicated by many companies trying to profit off the look.  
It is worth knowing what to look for in differences if you are in the market for a set.  Let's get into the details of what makes the wheel original from a replica.
LTW Wheels Dealer Details
The 1994 - 1995 wheel has the "BMW MOTORSPORT" stamp on the outside of the wheel.
The 1995 - 1999 wheel has the "M" badge decal below the center cap.
Only offered with a painted silver finish or polished.
Has BMW stamped on the inside of the spoke.
LTW Manufacturer Stamp Codes
A 3 digit stamp exists on the outside of the wheel next to the valve stem, the 3 digits decode to:
350 : original painted front rim 
360 : original painted rear rim
759 : original polished front rim M3GT only
760 : original polished rear rim M3GT only
850 : later polished front rim
860 : later polished rear rim
851 : later polished 7.5" rim but I have no info on when or where these were used
LTW Replica Warning Signs
Any replica wheel will obviously not have the official BMW stamp on the back.  The wheels will often be stamped with Italy as the country of origin. In addition, the majority of the replica wheels will only have the "MOTORSPORT" stamped on the front, it will NOT have the full "BMW MOTORSPORT".  If the wheels are replicating the facelifted version many will omit the recessed area for the "M" badged sticker below the center cap.  See below pictures for examples of authentic LTW Style 24 wheel markings.