Although modern BMW models equipped with iDrive feature a "radio" with traditional style buttons to save AM and FM stations, there is a hidden feature that can offer more practicality to your vehicle. In addition to programming the keys radio stations, these buttons can be programmable as "hot keys" to customize iDrive functions.
How do I program BMW multimedia iDrive hot keys?
To assign a function to the programmable hotkeys, simply use the scroll wheel on the center console to highlight any function within the iDrive system. Do not press the scroll wheel down to execute the function. Instead, press and hold the desired hotkey (numbered 1 thru 8) until an activation signal sounds off. The key is now programmed.
How do I verify the assigned programmed function of each iDrive button?
If you need to verify key function assignment, the process to check the assignment is simple. Touch the desired button without pressing down on it. You can slide your finger across the row of buttons to easily view all the functions quickly. The top bar of the navigation screen will highlight the existing assigned function of the key. Note, the use of gloves will not allow for this verification process. The operator must use bare fingers to verify contact with the keys.

How do I delete the programmed button assignments?
Press buttons 1 and 8 simultaneously for approximately 5 seconds. This will delete all button memories at once. The BMW iDrive system will not allow for you to erase the button memories individually.


Can I program a hot key button to turn off the iDrive screen?
Yes. If the screen is a distraction or too bright while driving at night, BMW allows the screen to be turned off and go completely black. The process is outlined in the simple steps below.
➊ Press "Option" on the center console iDrive controller.
➋ Scroll down and highlight "Switch off control display".
➌ Press and hold desired programmable button number.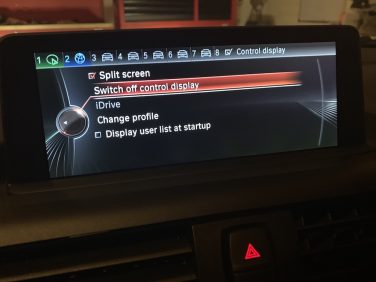 Are the BMW programmable iDrive buttons saved to each driver profile?
Yes, the button functions stored in the hotkeys are stored to each driver profile. This allows practicality if a husband and wife, for example, desire to have their own functions stored. Ensure each driver has a profile stored in the system settings.
What are some suggestions for programming functions?
➊ A favorite GPS address.
➋ Call a favorite person.
➌ Turn off the navigation screen.
➍ Check tire pressure monitor sensors.
➎ Display performance gauges.
➏ Owner's manual.
Where can I learn more BMW tips?
Learn more BMW pro tips by clicking HERE