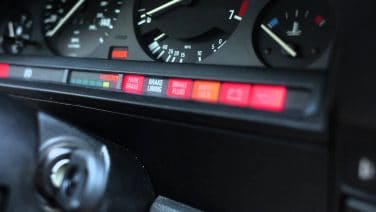 | | |
| --- | --- |
| Problem: | Reseting your service indicator after oil change. |
| Application: | All BMW E30 models. |
| Solution: | Perform the steps below |
| Cost: | FREE |
How to reset BMW E30 oil service / inspection light:
After performing an oil change, the BMW E30 oil service / inspection light must be reset.  Once reset, service indicator lights will be full green and begin to countdown until the next oil service interval.
The reset procedure is straightforward and does not require any special tools or even assistance from a BMW dealer.  If you change your own oil at home, you can and must reset your indicator light through the steps below. The only "tool" required is a jumper wire.
What are the steps?
➊ Locate the DLC (Data Link Connector) usually found around the oil dip stick on the 6 cylinder model and near the firewall on the 4 cylinder model. You are looking for a circular cap about the diameter of a soda can, early model vehicles are slightly smaller in diameter. Unscrew this cap to expose the data ports.
➋ Obtain a small gauge wire to fit inside the pin receptacles. Ideally, approximately 2 inches is sufficient.
➌ We recommend to using a fused or inline resister with the jumper wire to prevent a surge in amperage from frying your system. Although recommended, it is not required. Proceed at your own risk.
➍ Locate pins 7 and 19 (for 1988 and newer models) or pins 7 and 1 (for 1987 and older models) and place the jumper wire inside the receptacles. The numbers are small, make sure to have the jumper in the correct pin receptacle before proceeding. The picture below shows the late model pin locations.
➎ Turn the key to the ON position, this is the first click.
➏ After 5 seconds the LEDs in the dash will light up.
➐ Turn the key off and your oil inspection light is reset.
➑ If you proceed to leave the key on longer, around 8 seconds, you will perform an inspection reset.
➒ Remove the jumper wire.
➓ Reinstall the DLC cap.
Troubleshooting issues to note:
✔ If your lights cannot be reset or the lights come on after a few days, your instrument cluster batteries may need to be replaced.
✔ If the lights do not appear after 5 seconds, ensure the jumper wire has a proper contact with the metal receptacles in the data link connector. Too thin of a jumper wire may not have proper contact with the sides which will not allow the current to travel through the wire.
Other BMW model oil service inspection light reset procedures:
✔ E46