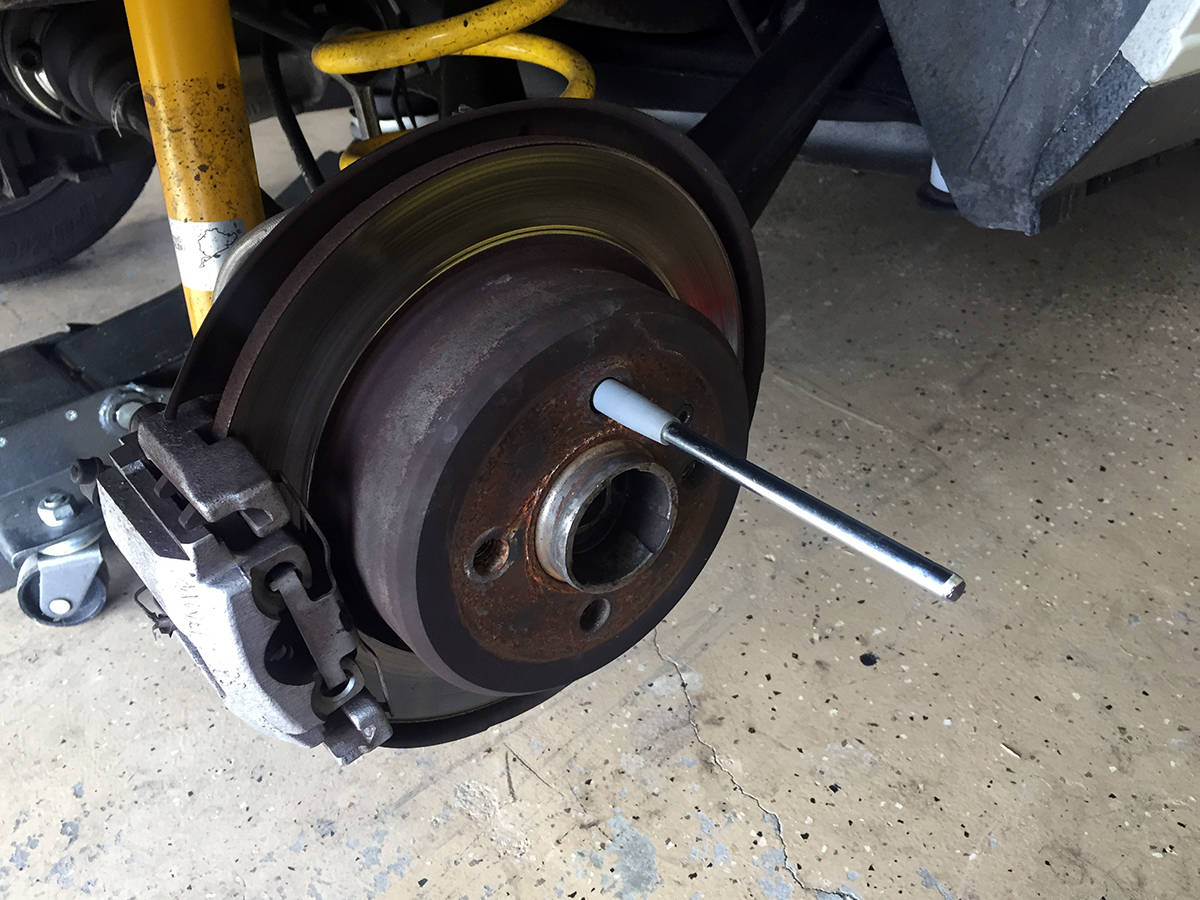 | | |
| --- | --- |
| Problem: | Aligning wheel bolt pattern to match hub pattern. |
| Application: | All models |
| Solution: | BMW tool kit: aligning stud |
BMW wheel alignment pin, tool kit:
When reinstalling a loose wheel back on to the hub of a BMW it is often difficult to line up the bolt pattern of the wheel to the hole locations on the hub. You struggle with taking the wheel off, rotating it and reinstalling it countless times before you actually get the bolt pattern to match up. Or maybe you try rotating the wheel on the hub and all the hub does is rotate.
Unlike American cars, which typically feature studs on the hub using lug nuts, European vehicles typically are installed with bolts. American cars with studs essentially act like a wheel alignment pin, like we will explain below. To learn why BMW does this and learn about installing a stud conversion kit, click HERE.
If you do not have a stud conversion kit, luckily BMW provides a simple solution included with the car in the tool kit. The wheel alignment pin, found in the trunk tool kit, is inserted in the hub bolt hole with the wheel off. Once inserted, simply install the wheel with one of the lug holes lined up to the wheel alignment pin. Just like that, all 4 or 5 of the lugs will be aligned once seated on the hub. Simply remove the wheel alignment pin by pulling it out of the hole. Problem solved. Check out the images below for further clarification on how this works.Thanks BMW for thinking of everything for us and providing all the tools necessary with the car in the tool kit.
Where can I learn more BMW pro tips?
Learn more pro tips by clicking HERE
Looking for BMW reference guides?
Learn BMW paint codes, download owners manuals, electrical wiring diagrams, wheel style guides and more by clicking HERE