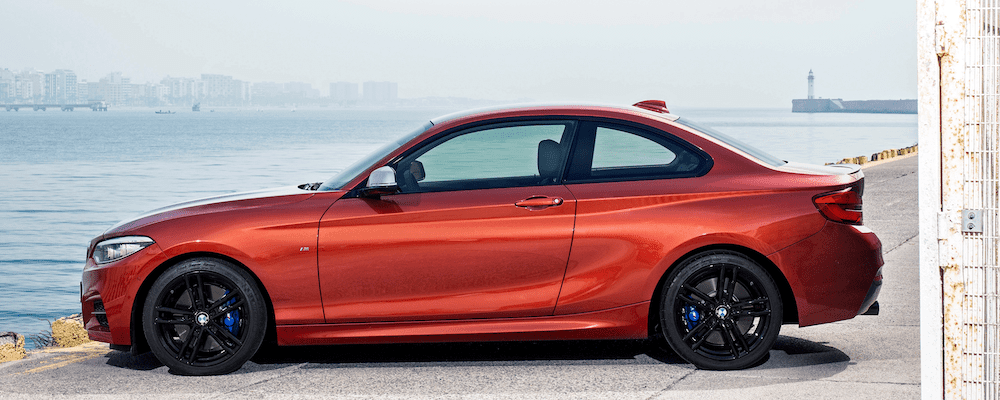 BMW F23 / F22 paint codes and color options:
Below are the BMW F23 / F22 paint codes and color options for the Coupe and Convertible models in the worldwide market. Different markets featured different paint color options from others. Not all colors were available in all markets. The BMW F22 2 Series Coupe and F23 2 Series Convertible was offered with nonmetallic paint as a no-cost option. The location of the paint code placard is found in the door jamb of the driver side door.
The listed F23 / F22 paint codes are for standard production models and does NOT include special order paint colors through the BMW Individual Program or the F87 M2 colors.
BMW F22 2 Series background:
The BMW F22 2 series Coupe was BMW's first 2 series chassis (F23 being the convertible). Production ran from November 2013 - 2021 and was replaced by the G42 2 series. The BMW M2 had a unique chassis code of F87. The largest market for the BMW 2 series is the USA which accounts for roughly 33% of all sales, Germany and Great Britain follow behind as the second two largest markets.
The BMW F22 was manufactured at the Leipzig plant in Leipzig Germany. The F22 was sold as both a rear wheel drive only and four wheel drive model. The xDrive was only availble on the highest range of the model, the M235i and M240i.
✔ Where can I find my BMW paint code? Learn how, click HERE
✔ Looking for the F87 M2 paint codes and paint color options? Learn them, click HERE
✔ Looking for a master list of all BMW paint codes and paint names? Learn them, click HERE
✔ Looking for the F22 wheel style options and detailed specs? Learn them, click HERE
BMW F23 / F22 Paint Codes Color Options
| | | |
| --- | --- | --- |
| PAINT NAME | PAINT CODE | COLOR |
| Alpine White III | 300 | |
| Jet Black ^ | 668 | |
| Mineral White Metallic ^ | A96 | |
| Mineral Gray Metallic | B39 | |
| Glacier Silver Metallic | A83 | |
| Moonlight Silver Metallic ^ | B66 | |
| Sparkling Brown Metallic ^ | B53 | |
| Valencia Orange Metallic ^ | B44 | |
| Midnight Blue Metallic ^ | B38 | |
| Deep Sea Blue Metallic ^ | A76 | |
| Black Sapphire Metallic | 475 | |
| Melbourne Red Metallic | A75 | |
| Estoril Blue Metallic * | B45 | |
| Sunset Orange Metallic | C1X | |
| Medeteranian Blue Metallic ^ | C10 | |
^ Not available with Msport package, M235i / M240i
* Exclusively available with Msport package, M235i / M240i