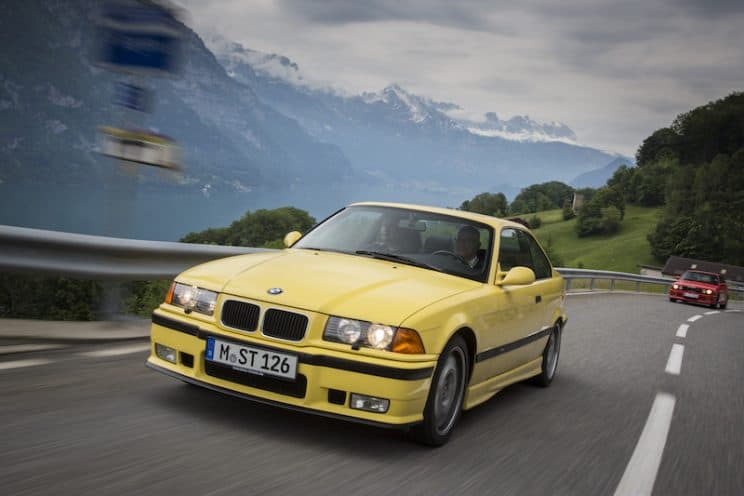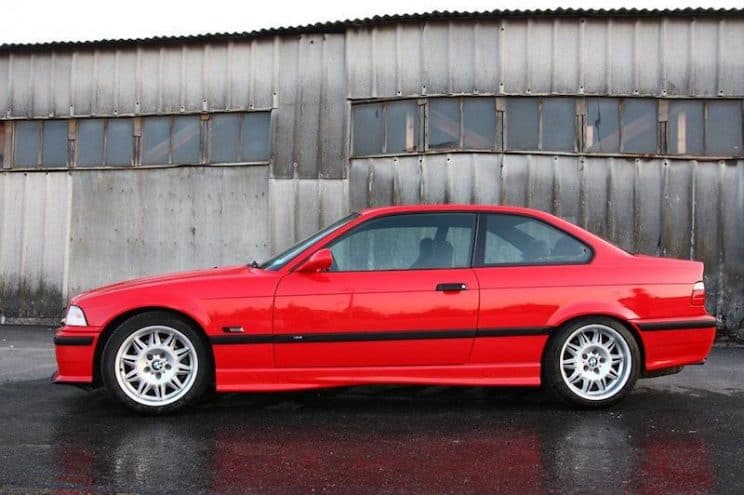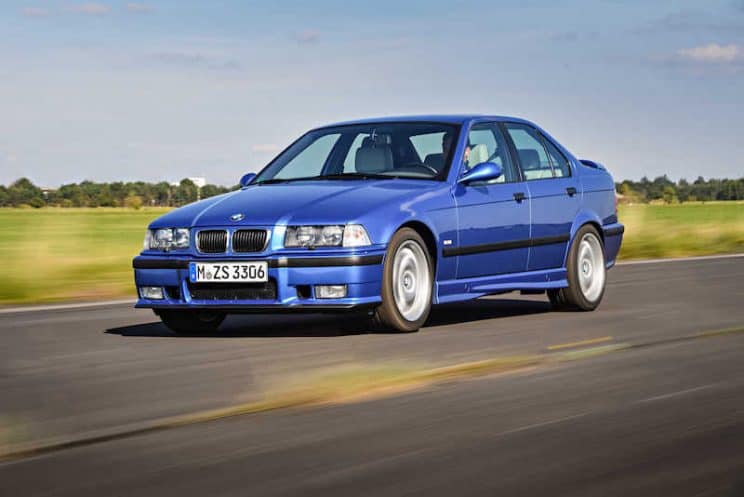 BMW E36 M3 paint codes and color options
The BMW E36 M3 was produced from 1992 thru 1999 with a total production run of 71,242 units worldwide.  Initially the E36 M3 was only offered in a coupe version, however by 1994 BMW offered a convertible and sedan version as well.  The E36 M3 was the first M3 initially designed to be a road car first as opposed to the E30 M3 which was designed to be a race car for the road.  The American and Euro spec versions varied in many ways, the biggest being the motor.  North American models did not get individual throttle bodies like the Euro versions as well as a detuned cylinder head.  
The early model North American spec versions were powered by the S50B30 motor (offered in 1995 only) and the later models (1996 thru 1999) were manufactured with the S52B32 motor.  The engine displacement increased from 3.0 to 3.2 liters, racing torque from 225 lb/ft of torque to  236 lb/ft, however, engine power remained the same at 240hp.
Because the European motors were more complex, higher power output is 289 hp and 236 lb/ft of torque for the early model S50B30.  This motor was revised to become the late model motor code of S50B32 which increased power to 321hp and 258 lb /ft of torque. 
Not all paint color options were available in all markets.
✔ Where can I find my BMW paint code? Learn how, click HERE
✔ Looking for a master list of all BMW paint codes and paint names? Learn them, click HERE
Pre facelift models with S50B30 engine, 1992 - 1995
PAINT NAME
PAINT CODE
SAMPLE
YEARS OFFERED
Alpine White II
218
03/1992 thru 11/1993
Alpine White III
300
12/1993 thru 01/1996
Mugello Red
274
03/1992 thru 08/1994
Brilliant Red *
308 *
09/1993 thru 05/1994
Bright Red (Hellrot)
314
09/1994 thru 01/1996
Dakar Yellow I
267
02/1992 thru 01/1996
Island Green Metallic
273
09/1993 thru 05/1994
Diamond Black Metallic
181
03/1992 thru 05/1994
Cosmos Black Metallic
303
03/1994 thru 01/1996
Sterling Silver Metallic
244
02/1992 thru 08/1993
Arctic Silver Metallic
309
09/1993 thru 01/1996
Polaris Metallic *
060 *
09/1993 thru 05/1994
Avus Blue Metallic
276
03/1992 thru 01/1996
Glacier Blue Metallic *
280 *
09/1993 thru 05/1994
Daytona Violet Metallic
283
09/1993 thru 01/1996
Boston Green Metallic
275
09/1994 thru 01/1996
British Racing Green ^
312 ^
02/1995 thru 06/1995
* South African Model Only
^ Euro Spec GT Model Only
Facelift models with S52B32 / S50B32 engine, 1996 - 1999
PAINT NAME
PAINT CODE
SAMPLE
YEARS OFFERED
Alpine White III
300
09/1995 thru 08/1999
Bright Red (Hellrot)
314
09/1995 thru 08/1999
Imola Red `
405 `
09/1998 thru 08/1999
Dakar Yellow II
337
09/1995 thru 08/1999
British Racing Green *
312 *
11/1996 thru 10/1998
Santorin Blue II *
327 *
11/1996 thru 10/1998
Cosmos Black Metallic
303
09/1995 thru 08/1999
Arctic Silver Metallic
309
09/1995 thru 02/1998
Titanium Silver Metallic
354
03/1998 thru 08/1999
Avus Blue Metallic *
276 *
11/1996 thru 10/1998
Estoril Blue Metallic
335
09/1995 thru 08/1999
Aegean Blue Metallic *
336 *
11/1996 thru 10/1998
Daytona Violet Metallic *
283 *
11/1996 thru 03/1998
Techno Violet Metallic
299
09/1995 thru 08/1999
Boston Green Metallic
275
09/1995 thru 02/1998
Fern Green Metallic
386
03/1998 thru 08/1999
Byzantium Metallic Orange ^
355 ^
09/1995 thru 08/1997
* South African model only
^ 1997 sedans only
` M3 Evo Individual only