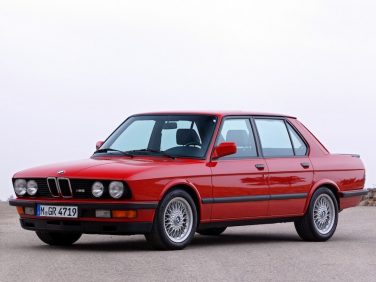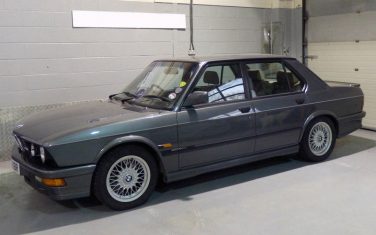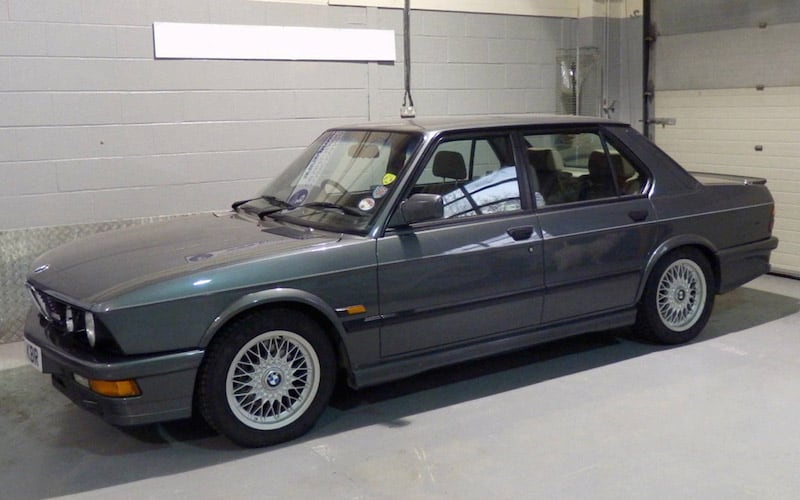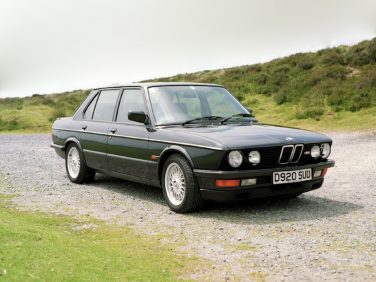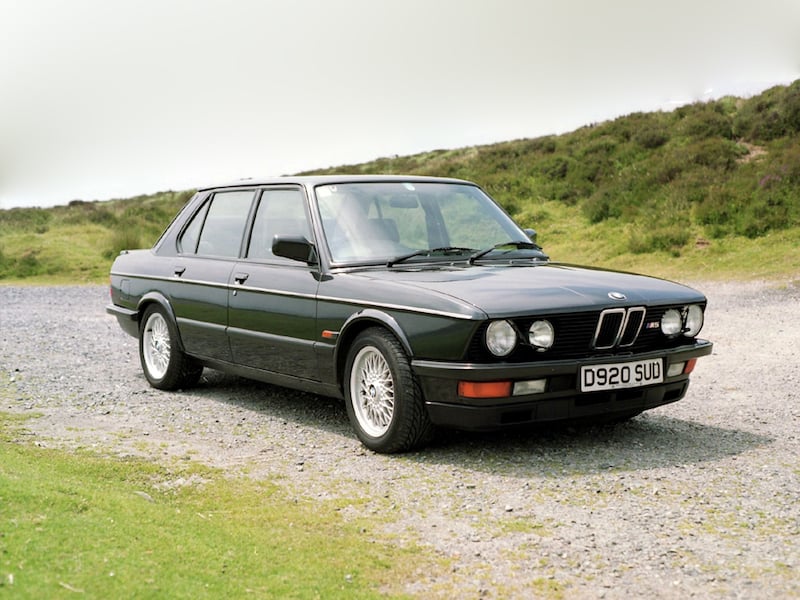 The BMW E28 M5 first debuted at the 1985 Amsterdam Motor Show.  Every E28 M5 was hand built in Germany except for the M5's sold in South Africa, which were assembled in the BMW South Africa factory.  Two engines were sold in the E28 M5, the M88 and S38.  The difference is the M88 does not have a catalytic converter.  The requirement of the catalytic converter was a law set by the North American and Japanese governments to meet more strict emissions standards.
The E28 M5 was first limited to 500 units for the North American market but eventually over 1,200 units were produced by the end of production in November 1987.  Every North American E28 M5 was sold as a 1988 year models despite all of them being manufactured in 1987.
 The North American cars were very limited in options due to the large quantity of cars needed to be manufactured in a short time.  As a result the only exterior option was Black and the interior leather was Natural (tan) or Black.  In other parts of the world however the options list was more extensive including 20 total exterior paint colors. 
✔ Where can I find my BMW paint code? Learn how, click HERE
✔ Looking for a master list of all BMW paint codes and paint names? Learn them, click HERE
BMW E28 M5 OEM Paint Color Options
| | | | |
| --- | --- | --- | --- |
| PAINT NAME | PAINT CODE | SAMPLE | NOTES |
| Arctic Bleu Metallic | 045 | | 10/1984 thru 08/1986 |
| Polaris Metallic | 060 | | 10/1984 thru 08/1986 |
| Black | 086 | | 10/1984 thru 11/1987 |
| Cinnabar Red | 138 | | 10/1984 thru 11/1987 |
| Bronzit Metallic | 139 | | 10/1984 thru 11/1987 |
| Alpine White I | 146 | | 10/1984 thru 11/1987 |
| Lapis Blue | 173 | | 10/1984 thru 11/1987 |
| Agate Green Metallic | 177 | | 10/1984 thru 08/1986 |
| Diamond Black Metallic | 181 | | 10/1984 thru 11/1988 |
| Delphin Metallic | 184 | | 10/1984 thru 11/1988 |
| Cosmos Blue Metallic | 185 | | 10/1984 thru 08/1986 |
| Cirrus Blue Metallic | 189 | | 09/1986 thru 11/1988 |
| Sable Brown Metallic | 196 | | 10/1984 thru 11/1987 |
| Royal Blue Metallic | 198 | | 09/1986 thru 11/1987 |
| Burgundy Red Metallic | 199 | | 10/1984 thru 11/1987 |
| Salmon Silver Metallic | 203 | | 10/1984 thru 11/1987 |
| Malachite Green Metallic | 205 | | 09/1986 thru 11/1987 |
| Henna Red | 052 | | 06/1987 thru 11/1988 |