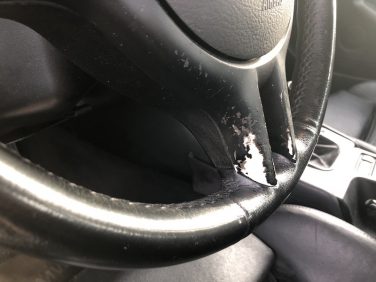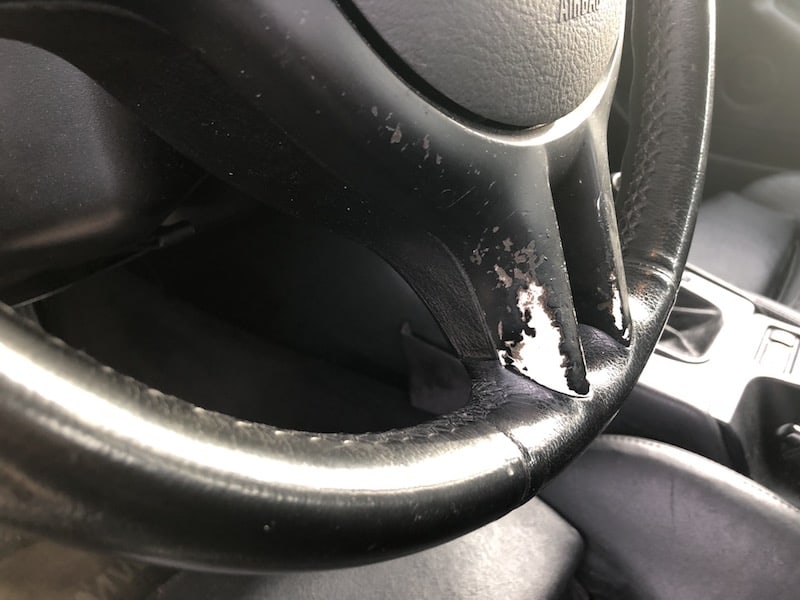 | | |
| --- | --- |
| Problem: | Scratched, worn steering wheel trim. |
| Application: | All BMW E46, E39 & E53 sport / M3 / M5 models. |
| Solution: | Remove and replace, vinyl wrap. |
| Cost: | $5 to $175 |
| Where to buy: | Dealership, FCPeuro.com, ECStuning.com |
BMW E46, E39, E53 X5 sport wheel trim scratches fix:
The black rubberized coating on the BMW E46, E39 & E53 X5 interior plastic parts are notorious for scratching and peeling as the vehicle ages. The plastic steering wheel trim is one of the most common spots for this defect to happen. With the steering wheel being one of the main jewels of a vehicle's interior, it is a magnet to your eye every time you enter your vehicle. Restoring this eye sore will bring back a clean interior look. Below we will go over some of the main causes for this issue as well as typical fixes.
What are the main causes for this defect?
Scratches are the number one cause. Dragging your keys, watches, nails, purses etc. across the plastic steering wheel trim will easily create irreversible damage.

Hand lotions contain many chemicals that react with the rubberized coating and break it down to the point where it wears off completely.

Interior detailing / cleaning products. When detailing the inside of your vehicle ensure to use non harmful cleaners which will not react with the plastic in an irreversible way.

Smoking. For all you cigarette smokers out there, the chemicals in the smoke you exhale will find their way on your hands and can be transferred to the steering wheel trim to expedite the wearing reaction.

Excessive touching with your hands. Your hands contain many natural oils (or unnatural oils: grease monkey) which will again react to the coating and deteriorate the finish.
What are the OEM BMW part numbers to replace steering wheel trim?
The obvious fix is to just replace the worn part. The below part numbers are for BMW E46, E39 and E53 X5 models with either the sport or mtech wheels. The standard 4 spoke wheels do not have a replaceable cover. The 4 spoke wheel trim pieces are part of the button assembly.
Sport wheel: OEM BMW Part: 32306756514, $162, fits E46, E39 & E53 X5

Mtech wheel: OEM BMW Part: 32347833355, $175, Fits E46 M3 & E39 M5

E46 M3 CSL: OEM BMW Part: 32347833354, $175, Titan Shadow color
What are other options besides replacing steering wheel trim?
A popular solution to the peeling coating is to remove all the coating in its entirety and vinyl wrap the existing plastic trim. This allows for the customization of many colors and patterns. Best of all it is reversible. If you get sick of a color, just remove and replace the vinyl with a new one. You can get a whole 6 foot roll of vinyl for around $5

Plasti dip is another cheap solution to essentially restore a rubberized coating on the cover similar to the factory finish. You can get a can for about $5 at a hardware store. The solution is cheap, however, this is only a good short-term solution as long-term the plasti dip will eventually peel and fail just like the original factory finish.

Hydro dip the part. This process uses water to transfer a patterned film to your part. This technique may sound new but once you google the process, chances are you have seen products with this finish before. This technique is not as easy as vinyl wrapping since you will likely have to send the part off to a shop to be dipped. However, the hydro dipping process allows for a unique look that cannot be easily replicated by vinyl or paints. You can google the finish to get a better idea of what hydro dipping is.
What if my upper steering wheel trim is scratched?
The upper steering wheel trim on the sport wheels contain the multifunction buttons as an assembly to the plastic trim. Unfortunately, to replace the plastic trim you have to replace the entire upper assembly with the buttons. This is OEM BMW part number 61316949754 and cost around $200 to replace.
What are other steering wheel tips?
Click here to learn how to clean dirty colored steering wheel stitching.