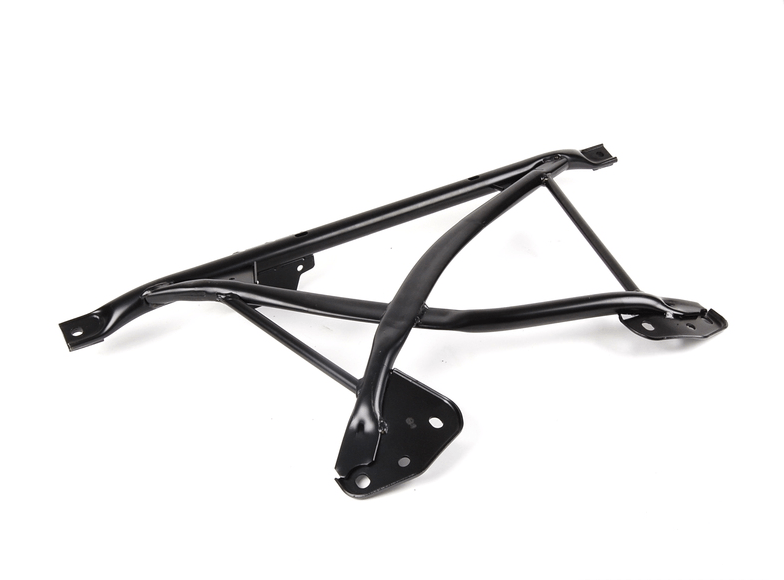 | | |
| --- | --- |
| Problem: | Front end body flex & lack of responsive steering. |
| Application: | E36 |
| Solution: | BMW Motorsports Xbrace |
| OEM Part Number: | 51718410212 |
| Where to buy: | Junk yard, OEM distributors |
| Cost: | $15 at the junk yard, $190 new |
The lower cross brace, or "xbrace" was first introduced as standard equipment on the BMW E36 M3 LTW.  It is a tubular steel "x" design which connects the front sub frame of the car to the main chassis.  It dramatically improves front end stiffness while also provides protection to your oil pan.
When entering a corner the front end has a tendency to flex and twist, this brace helps reduce this body flex.  It stiffens the front end and gives better steering feedback to the driver.  Pair this brace up with a front strut bar and you will substantially  improve the front stiffness of your E36 and will be able to take corners a lot faster and a lot flatter.
Every E36 coupe or sedan has the standard crossover bar which is just a straight tubular bar (as shown above the xbrace in the picture below).  This is helpful, but not nearly as helpful as the more rigid xbrace.  Since the E36 convertibles and Z cars of the era did not have a roof, by design they lose structural rigidity and have more body flex.  As a result, BMW made this xbrace standard equipment on the convertibles and roadsters.  This proves how substantial this part is in reducing body flex.
The xbrace came in two designs as seen below in the pictures.  The one with the square plate in the middle was an earlier design, although functional with improving stiffness it was also an inconvenience when changing oil as the oil drains straight onto that plate in the middle.  BMW realized this as a design flaw and improved the design to what you see below.  An offset X design allows the oil to drain out properly without making a mess.  Although two different designs, both are completely functional in the same way.
Both designs of these braces fit ALL E36 and Z3 chassis BMWs.  The best place to pick one up cheap is the junk yard since they are found on every model E36 convertible (and Z3 if you happen to actually find one).  It should be noted that any facelifted E36's (1997 - 1999) this installation is simply plug and play, it bolts right up to the factory threaded inserts in the subframe.  For all prefacelifted E36's (1992 - 1996) there are minor modifications you have to make to allow the brace to thread into the frame.  There are plenty of write-ups on this how to if you search online (check Pelican Parts).
Not only is this a no brainer mod for your E36 to improve handling, it also serves another purpose; it essentially acts a skid plate.  This brace crosses directly under your oil pan protecting it from scrapes, this is essential for any lowered car.  In the pictures below you can see scratches on the brace indicating some close encounters with the oil pan if the brace was not there.  Get out to your local junk yard and find one or if you have the money, buy one new right now.