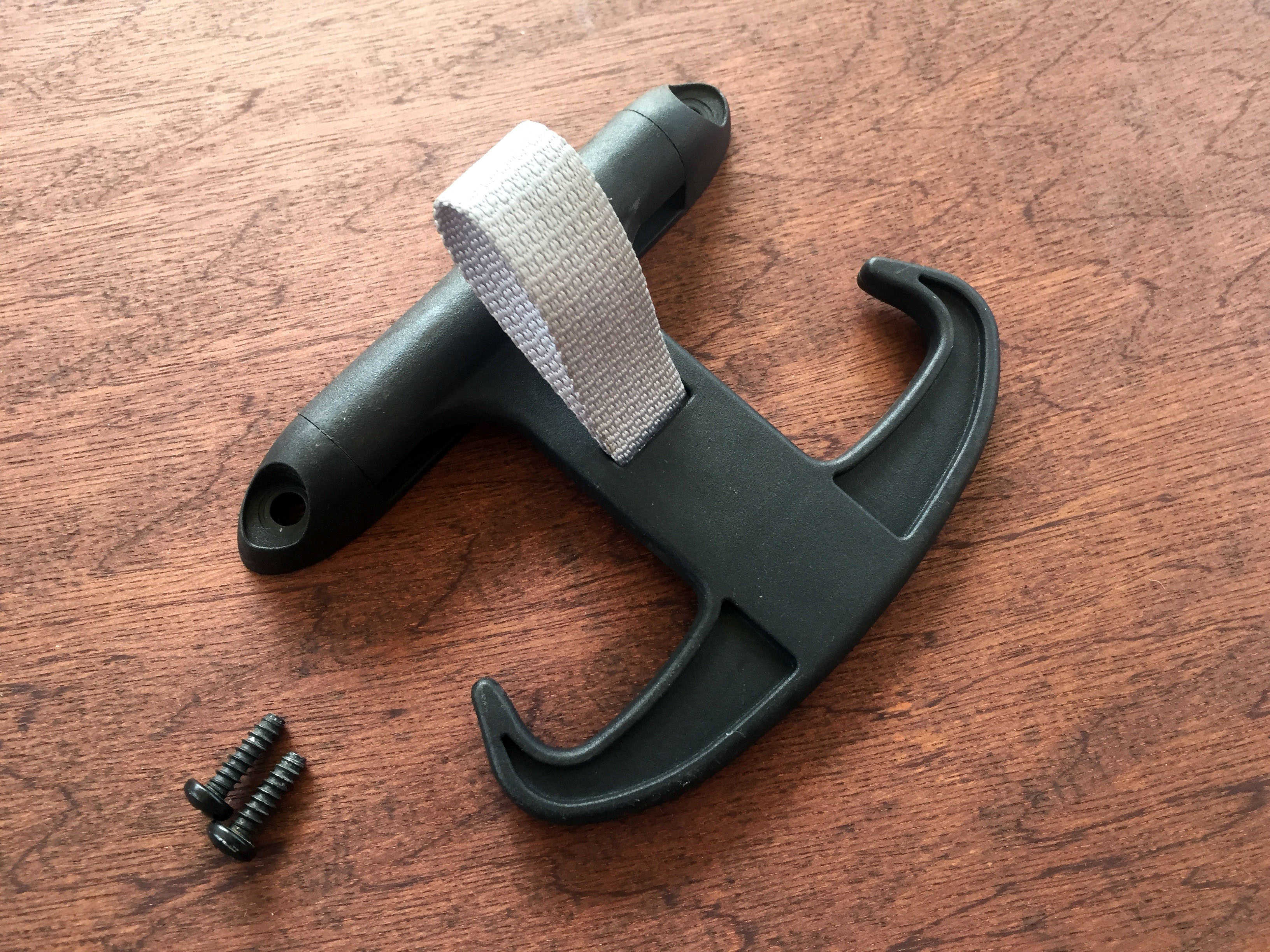 | | |
| --- | --- |
| Problem: | Grocery bags slide around trunk. |
| Application: | All models. |
| Solution: | Install Audi / VW grocery bag hooks. |
| Where to buy: | Junk Yard or Audi / VW OEM parts supplier. |
| OEM Audi / VW Part Number: | 6Y5 867 615 B41 |
| Cost: | Amazon, Junkyard: $1 ea. |
BMW's are the ultimate driving machine as any enthusiast will tell you.  Driving dynamics aside, they do have some inconveniences when using them as a daily driver.  Adequate cupholders is probably the biggest complaint in the department, but another annoyance has finally made me break down and solve another problem.  The issue is a lack of storage or containment for grocery bags. 
Every time I pick up a few things for dinner after work and throw the bag in the trunk by the time I drive home its all strewn about.  The cargo net is not a solution for this problem, this is helpful for larger items like a suit case but not grocery bags.  Luckily the Germans found a solution, but unfortunately it wasn't BMW, it was the Volkswagen group.  
Audi and Volkswagens equip their trunks with fold down, spring loaded grocery bag hooks for the convince of every day life.  These grocery bag hooks are made of high quality durable plastic, have a nice fabric pull strap and neatly hide away to a tucked position due to the spring action giving the trunk a stock appearance.  I went to my local junk yard to find a 2005 Audi A4 and pulled these two grocery bag hooks.  The junk yard charged me $1 a hook however these can be purchased new for around $10 each.
Installation in my BMW E46 325i was simple, there is plenty of room in the trunk under the rear parcel shelf.  Locate in an area as you desire but make sure the grocery bag hooks lay flat as the area has some stamped ridges.  Mark the locations with a sharpie, center punch the marks and drill them out with a bit slightly smaller than the screw threads.  Fasten the hooks down with two sheet metal screws and the installation is complete.  The grocery bags when full still sit on the trunk floor with standard size bags, so the hooks really just prevent the bags from sliding around given the tall design of the hook part.  This is a good thing as there isn't constant weight on the screws wanting to pull it out of the rather thin sheet metal you just drilled through.  
We tested out the grocery bag hooks by loading up some bags and driving around town at rather aggressive speeds to test their functionality.  Upon returning from our test drive we opened the trunk and the groceries were still in the bag and not littered all over the trunk.  These grocery bag hooks are one of the most easy modifications that you can do that will change your life if you daily a BMW.  These hooks can be retrofitted to virtually an model BMW, do yourself a favor and get a set of grocery bag hooks
SIDE NOTE:
BMW does make a similar accessory you can buy online or from the dealer, OEM part number 82260153360.  These retail for around $30, it serves the same purpose.