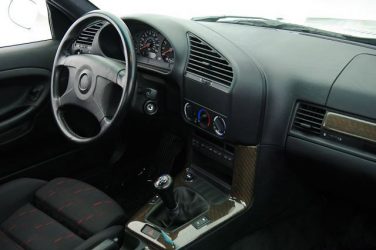 | | |
| --- | --- |
| Problem: | Radio delete with unsightly opening. |
| Application: | All BMW E36, E34, Z3 models. |
| Solution: | OEM BMW radio blanking plate. |
| Cost: | around $25.00 |
| OEM Part Number: | 65111384855 |
| Where to buy: | CLICK HERE |
OEM BMW E36, E34, Z3 radio delete blanking plate:
Removal of the radio head unit has many advantages. It reduces the overall weight of your vehicle (OEM BMW radio weighs about 3 pounds), cleans up the look of your interior and also frees up space for the mounting of additional gauges.
These radio delete blanking panels were originally designed for the E36 M3 LTW and GT models which had the OEM option upon ordering for radio delete to save weight. The LTW model was only available in the US market and the letters LTW stand for "Lightweight". The E36 M3 GT was available only outside of the US and came in British Racing green. These were special edition models and highly desirable in the used market for clean examples.
BMW makes an OEM blanking plate for a very reasonable price, around $25 brand new. The OEM BMW part number is 65111384855 and can readily be purchased right now. No mounting hardware is required, it simply snaps into place in the factory opening. Removal just requires a small pry tool between the side of the panel and the dash to pop it out. The texture of the plastic matches the other plastics found in the interior of your car and fit and finish is perfect as you would expect from an OEM BMW part. Don't settle for third part aftermarket radio delete panels when BMW offers original equipment at a cheap price.
These blanking plates fit all BMW E36, E34 and Z3 models. New blanking plates can be purchased online in our store by clicking HERE.
Where can I learn more BMW tips?
Learn more BMW pro tips by clicking HERE