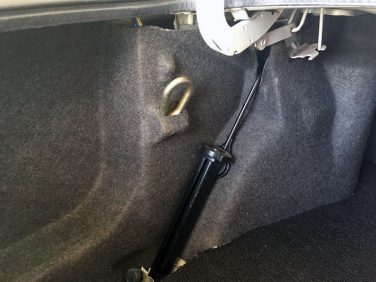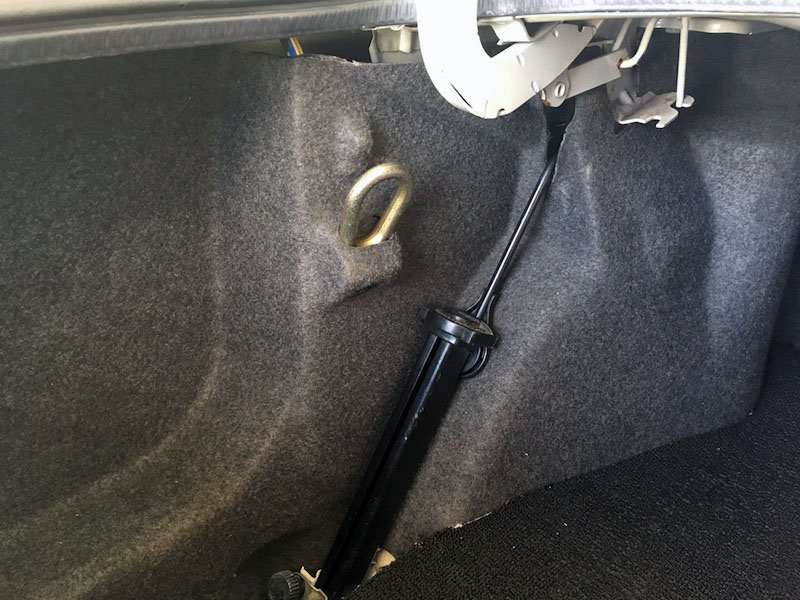 | | |
| --- | --- |
| Problem: | Need for a secure place to store BMW E30 tow hook. |
| Application: | BMW E30 |
| Solution: | Use the built in holder |
| Cost: | FREE |
BMW trunk tow hook holder:
It has become "trendy" to keep a tow hook installed on the front bumper of the BMW E30 model. The reason must be because of "race car" looks, but we feel it looks absurd for street cars. The purpose of the tow hook being readily available is if the car crashes and needs to be towed, the tow truck driver can attach onto the tow hook without tying down on the control arm or other suspension components doing further damage to your car.
For BMW E30 owners who like the OEM stock look, the plastic tow hook cover will be placed properly over the tow hook opening in the front bumper. This leaves the tow hook loose in your glove box or trunk in many cases when owners do not know the OEM placement of it. It is not unlikely your trunk will have the factory liners missing or removed. If your trunk liners are still in tact and want to complete the OEM factory look, you are in luck.
The OEM BMW factory E30 trunk liners feature a tow hook holder cutout on the left-hand side just under the trunk hinge. This cutout is where the tow hook is placed when not in use. It simply drops in the cutout snugly and does not require any strap to keep it in place.
Models after the BMW E30 have a dedicated tow hook storage spot in the tool kit.
What if I need an OEM tow hook?
Replaceable OEM BMW tow hooks are still available for purchase new if you cannot find a used one at the junk yard or on eBay. The popular Euro parts suppliers such as ECStuning.com and FCPeuro.com will supply a new tow hook.
What is the cost of a new tow hook?
$15-$30 dollars.
What is the OEM BMW E30 tow hook part number?
OEM part number: 72151965186
*** The BMW E30 tow hook will not fit all model BMW's due to difference in thread pitch.
Where can I learn more BMW fun facts?
Learn more BMW fun facts by clicking HERE