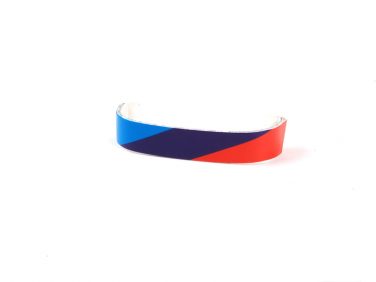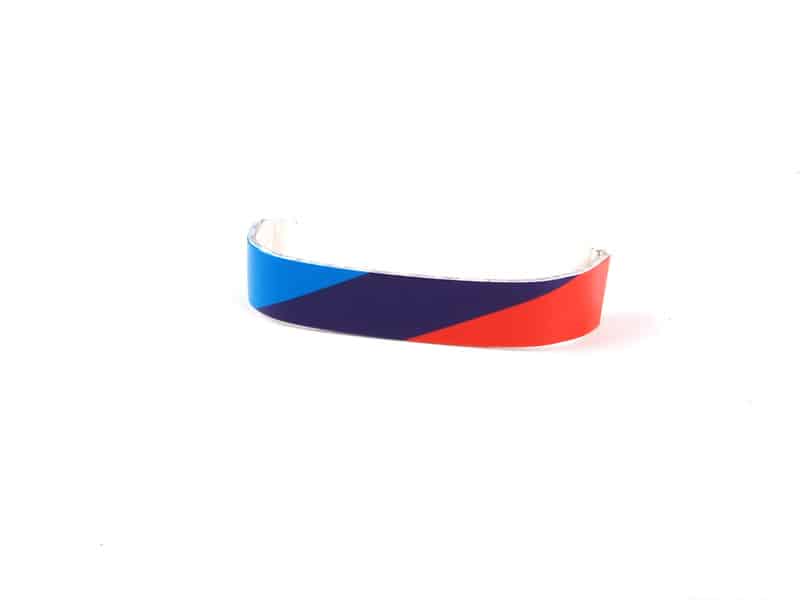 | | |
| --- | --- |
| Problem: | Faded, cracked or worn BMW Mtech1 M stripe badge. |
| Application: | Any Mtech 1 steering wheel. |
| Solution: | Replace worn emblem. |
| Cost: | ~ $28.99 |
| OEM BMW Part Number: | 32331155957 |
| Where to buy: | We sell them HERE |
BMW MTech steering wheel badge / emblem replacement:
One of the most recognizable features of the Mtech 1 steering wheel is the iconic BMW Motorsport colored badge on the middle spoke. This badge or emblem is stuck on the wheel with adhesive. Over time this badge can fade, scratch or completely fall off. Luckily, BMW still makes the original badge and can be ordered online or at the dealer for around $20 - $25. Replacing this badge with a new factory replacement will bring back vibrancy to your Mtech 1 sport steering wheel.
If your BMW MTech steering wheel badge is still in place but worn, just pick at it with your fingers and peel it off. Once removed, used goo gone or rubbing alcohol to clean off any residual adhesive. Make sure the surface is completely clean of any oils or residue before applying the new emblem.
Apply the new BMW M stripe badge by pealing off the backing. Make sure to not touch the sticky part with your fingers, this will transfer oil onto the back. If any oil or dirt gets on the back, the emblem will not fully stick to the steering wheel. Make sure to install the BMW M stripe emblem in the correct direction with the Blue Stripe toward the left side of the wheel.
To remove / replace the steering wheel center roundel badge / emblem, make sure to see our post on this process HERE.
Where can I buy the BMW MTech steering wheel badge?
We sell them directly from our store HERE
What is the OEM BMW part number?
The OEM BMW part number is: 32331155957
What models will it fit?
Any Mtech 1 steering wheel. These steering wheels are commonly found on the BMW E30 and E28 models.
How much does it cost?
Approxiately $28.99, prices vary due to market demand.